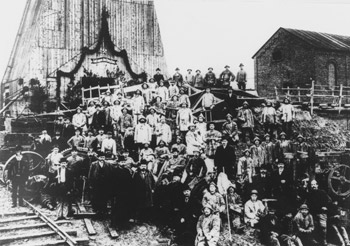 In 1871, August Thyssen laid the foundation for his activities in the coal mining industry within the existing firm 'Gewerkschaft Deutscher Kaiser' (German Emperor Labor Union) that would ultimately lead to the founding of THYSSEN SCHACHTBAU GMBH.
The primary services included shaft sinking and exploration drilling. In addition to the conventional shaft sinking method, a new freezing technique was developed for which THYSSEN SCHACHTBAU would later become well known among experts.
In 1919, while working in both mining and metallurgy, August Thyssen founded Schachtbau Thyssen in the city of Mülheim an der Ruhr. The services then included all forms of drilling and shaft sinking as well as mining enterprise operations management, and the firm began focusing on expansion and international acquisitions and strategic partnerships.
Post World War II, the company was reestablished as THYSSEN SCHACHTBAU and resumed its operations.
In Germany, the last shaft was sunk in 2000 by THYSSEN SCHACHTBAU in the Saar region. Thus, the firm has since intensified its international endeavors, developing a modern, globalized approach.
Today, the company is one of the leading specialized mining firms in the world as a result of technical expertise and almost 150 years of experience, offering a wide range of specialized mining services for moth horizontal and vertical mining industries.